After 8th and 9th. General Assembly Meeting of WHC in Istanbul/Turkey, 10th General Assembly Meeting of the World Halal Council (WHC) will be held on 23 & 24 November 2012 in Manila, Philippines.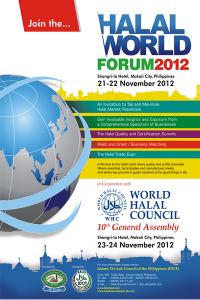 We are pleased to inform you that the 10th General Assembly Meeting of the World Halal Council (WHC),the global federation of Halal Certifiers is scheduled for the first time in Manila, Philippines on 23 & 24 November2012 at the Shangri-la Hotel in Makati City, Philippines.
The Islamic Da'wah Council of the Philippines, Inc. (IDCP) is hosting this event, and, in addition, a 2-day Halal World Forum (HWF) 2012 for Halal manufacturers, suppliers, rdealers, academe and consumes is also being organized on 21 & 22 November 2012 in order to have a harmonious meeting and dialogue between the producers, consumers and certifiers around the world.
In connection with the 2-day Halal World Forum, we are pleased to extend our cordial invitation to you and your organization to participate in this meeting and business matching event.
The hotel venue is at the business center of Makati City, which is conveniently located for your business and pleasure during your stay in the Philippines.
Considering that we have limited the number of participants to only 500, the participant's registration as well as hotel accommodation is on a "first come first serve " basis in which IDCP will be happy to assist you.
ATTY. ABDUL RAHMAN R. T. LINZAG
President/CEO
Islamic Da'wah Council of the Philippines, Inc. (IDCP)
Member, Executive Committee – World Halal Council (WHC)